Now browse your Tally on any device and anywhere with full security
Tally.ERP 9 Release 6.6, the latest version of Tally provides you the facility of browsing of Tally reports from anywhere and at anytime over fully secure connection. Download Tally.ERP 9 release 6.6 and get free access to all your Tally reports through the internet instantly.
Reports that you will get online
Financial Statement Reports

Profit & Loss A/c

Analyze the revenue generated as well the expenses incurred thus showing you the Gross and the Net Profit earned for a period. Get your cost of sales at your figure tips

Balance Sheet

Balance Sheet will help you to analyze what you own (Assets) and what you owe (Liabilities)

Ratio Analysis

It helps you to convert a large accounts data into simple form and check the Cause and effect relationship. It is a powerful tool for functional analysis.




Cash Flow Management Reports

Cash / Flow Statement

To know the cash position of your business and ensure you always have adequate cash.

Outstanding Management

When you face cash crunch, your customers are the lowest hanging fruits to recover the money.

Cash/Bank Book

Provides quick visibility of Cash available in banks




Customer Relationship management report

Sales Orders Due & Book

Helps you to maintain adequate levels of stock based on sale orders received.

Delivery Note Register

Helps you to analyze the stock delivered on a fortnightly / monthly / quarterly / yearly etc.

Sales Register

Analysis of periodic Sales trend (Monthly, Quarterly); Invoice-wise profitability

Credit Note Register

Helps in analysis of the Credit notes raised for your parties for a given period.




Inventory management report

Stock Summary

Helps you to analyze the stock available so that you can fulfill the orders efficiently.

Stock Query

Gives you a holistic view of a specific product viz., which alternate product can be pitched, Product's availability at various godown/warehouse, the GST rate applicable for the product etc.



Benefits
Controlled and secured Data Access

Get the pulse of your Business Data

View the Status of Order, to fasten the delivery

Get to see Invoice Copy on Mobile and directly Mail to Party

Check Stock Availability

Browse Tally reports on mobile from anywhere at any time

Convenient Tally report viewing

Quick decision making and response time

Save reporting time to Management
Steps to view Tally reports online
Update Tally to version 6.6 or Download Tally from website and Reactivate License in Rel 6.6

Enable Tally company for Security Control

Add authorized Tally Net User to the company

Connect company to Tally Net Server

Open browser (Google Chrome, Mozilla Firefox, Safari, Internet Explorer, Android, iOS)

Log in with your Tally Net ID

Access Tally reports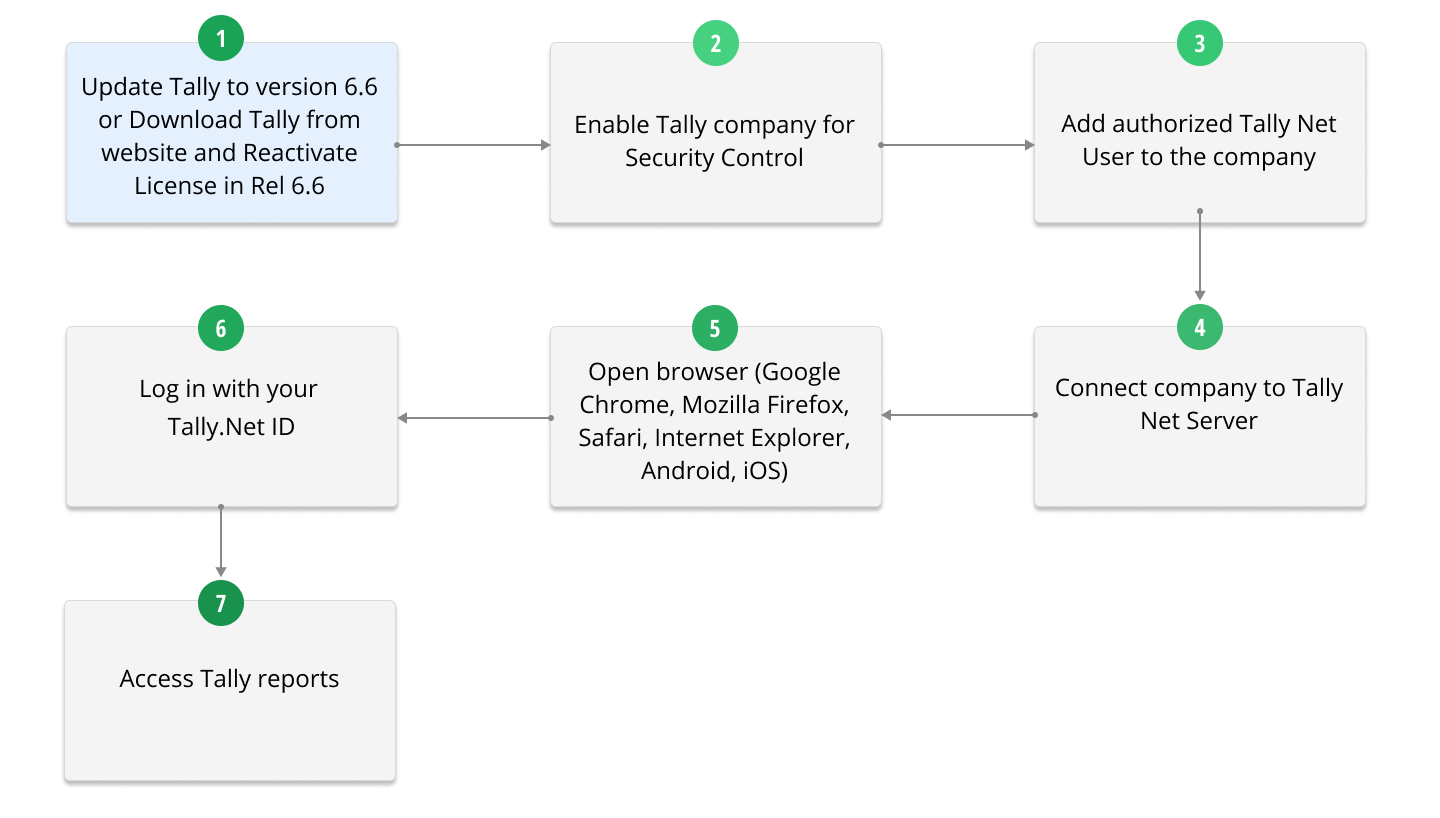 Note: In order to update your Tally, you need to have a valid TSS.