A normal approach to automate the supply chain is to install an application at the distributor's end that is tied online to the parent company's ERP.
Executives then ask distributors to enter sales data (like information regarding which products have been bought by particular retailer) manually. The application would then send that information to the parent company's ERP.
Sounds simple, but there's a catch: almost all distributors already use accounting software, the ubiquitous Tally, to manage their finances. It is also where they feed their sales record into. By asking distributors to input data into the service provider's application, executives were basically asking them to replicate work – without any tangible benefit to them. It was the sort of application that made end user buy-in a make or break deal.
Tally is favorite amongst the distributors and now they can have customized version of tally built to suit their and parent companies requirements. Now information entered into Tally can be captured by add on and can be sent to parent Company's ERP system when an internet connection is detected. To the end user, this process is transparent, and they can continue to use Tally without interruption even when the update is in progress. Since channel partner did not have to put in extra efforts to make this system work, they need not resend it. In fact, the system helps distributors by showing them their existing credit limit with the parent company and the credit limits that various retailers have with them.
The business need to track the product movement through its supply chain is now a reality, but it needed someone who finds out some clever ways of working around practical problems. It might be you who initiate the innovation and go beyond the problem solving by completely circumventing the problem.
Tally.ERP 9 is the best fit in the supply chain of following industries
Telecom
Financing
Reduce cost of Business Operations.
Automobiles
Consumer Durables
Pharmaceuticals
Chemicals, Fertilizers
Advantages to the Parent Company
Common SKUs across all distributors/dealers/resellers as prescribed by parent company
Seamless flow of information (Secondary/Tertiary) from distributors/dealer/reseller to the centralized ERP system helps in last mile connectivity
Real-time information of Sales & Stock at distributors' site helps management to take timely decision and to safe guard ROI of the distributors
Replenishment of Stock at distributors' site
Control on Schemes & Discounts Handling across the distributor network
Claims Management
Automation in Purchase Order Processing
Invoicing
Schemes & Discounts Handling
Advantages to Distributor
Complete Purchase Cycle Management from Purchase Order to Goods Receipts to Bill Booking & Payment
Complete Sales Cycle from Sales Order to Delivery to Invoice & Receipts
Accounts Payable & Receivables
Multi Godown & Batch wise Inventory Management
Complete Accounting & Statutory
Item wise & Invoice wise profitability
Use of Tally.ERP 9 as Supply Chain Management Software
Collaborative Ecosystem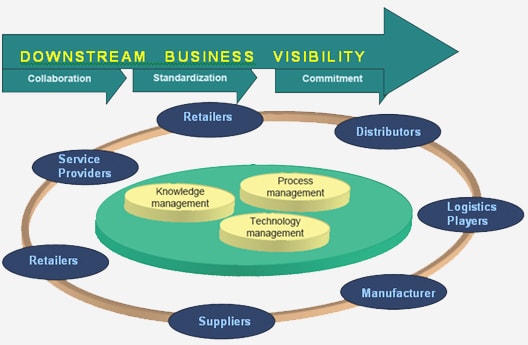 Collaborative Ecosystem